FREEDARE Launches the World's First Smart Fat Tire E-Bike
New York, NY / May 9, 2023 / FREEDARE will launch the world's first Smart Fat Tire e-bike on Indiegogo, setting a new standard for innovation in cycling. With its smart technology and revolutionary design, FREEDARE will bring riders a whole new riding experience.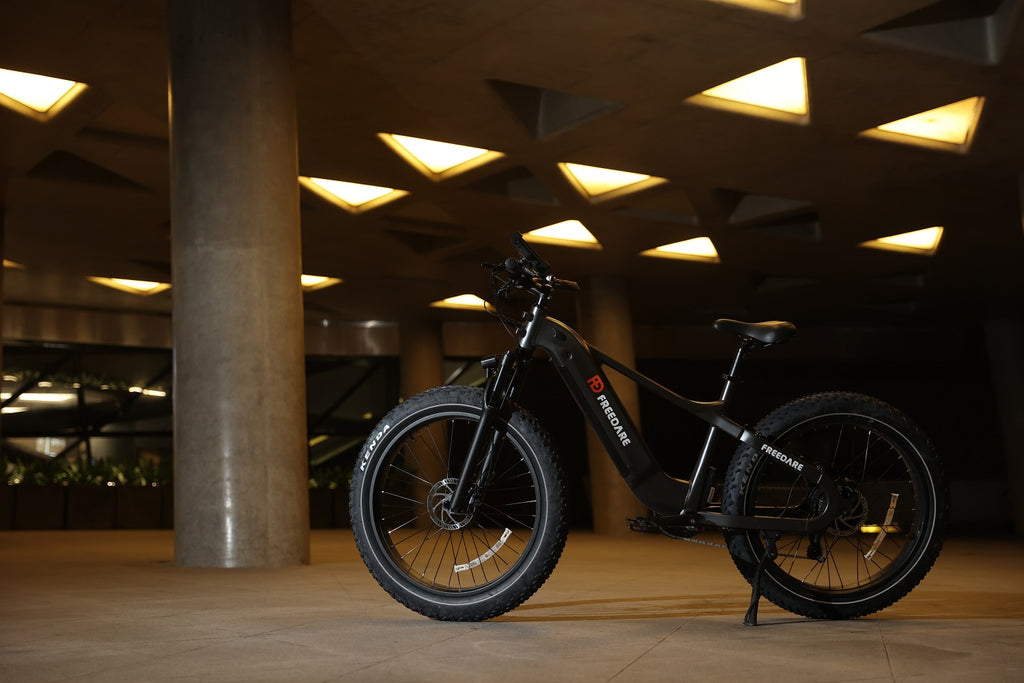 Through technological innovation, FREEDARE electric bike provides a double barrier anti-theft system with motion sensing and GPS tracking. With its Qualcomm 4G chip, riders can view location records and control the bike remotely. If there is any unexpected situation when locked, FREEDARE will notify the rider as soon as possible. In case the e-bike is stolen, the rider can remotely power off and track the vehicle via GPS.
It is also equipped with a vehicle detection system. The owner can conduct safety inspections on the motor, controller, brake, handlebar, torque sensor, speed sensor and other components through the APP to ensure that users can enjoy riding safely and conveniently. 
FREEDARE places great emphasis on providing a fun, safe, and versatile riding experience.
To better adapt to the diverse needs of its users, maintain the stability of the body structure, and facilitate multi-scenario use, the designer chose not to deviate from the conventional shape of the vehicle. Instead, they optimized the appearance design to cater to the functional requirements of riders while ensuring the vehicle's performance is not compromised.
Riding can be more fun.
Based on the researched needs of early adopters, FREEDARE has also developed a plethora of intelligent functions to create an enjoyable cycling experience for all users.
Cycling dual-interface design: 
The cycling app features a dual-interface design with two modes: riding data and riding track map. This enables users to conveniently access their own riding data and tracks through the app. In the riding track interface, users can not only view parameters such as direction, distance, speed, and current power during their ride, but also real-time values of carbon emission reduction and calorie consumption, providing a clear picture of the positive impact of their cycling activities.
Cycling road book navigation function:
The app is integrated with Google Maps and allows users to create customized multi-point cycling routes using the Google Maps platform. The set points conveniently support graphic editing and reminders, ensuring that users don't miss any scenic moments while cycling.
Public road book recommendation:
FREEDARE will regularly recommend nearby high-quality cycling routes for users. With over 100 popular cycling routes in North America, users can enjoy an enhanced riding experience. Additionally, users can create and share their own custom routes as public routes, allowing more riders to participate while earning paid reports and making the riding experience more engaging.
FREEDARE has developed a cost-effective smart fat tire electric bicycle with high-end configuration.
The detachable Samsung 20AH battery is equipped with a torque sensor to achieve a mileage of up to 150 kilometers on a single charge. This bike is perfect for long-distance rides, and riders need not worry about insufficient power.

With a powerful 750W (Peak1000W) BAFANG brushless motor, 7-speed SHIMANO gear, hydraulic disc brake, adjustable front suspension fork, color display, light-sensing LCD, and headlights, this bike ensures an effortless and comfortable long-distance riding experience.

This electric bike is equipped with 26x4.0" wide tires and hydraulic disc brakes to ensure balance and quick responses while riding. The puncture-resistant and anti-skid tires provide added durability and stability, while the hydraulic disc brakes offer superior stopping power and easier maintenance compared to cable clamp disc brakes.

The waterproof performance of IPX5 level allows the rider to enjoy the fun of riding on beach trails. Even during sudden rain, riders can enjoy their ride with peace of mind.

Plus, FREEDARE offers a 2-year warranty on core components and a 5-year free Smart Package, allowing riders to explore the next generation of riding with confidence. This Is absolutely your best electric bike pick yet.
FREEDARE Technology
For the past two years, the FREEDARE team has been dedicated to designing, testing, and refining prototypes of their e-bikes. With a focus on addressing common issues faced by e-bike users and creating a high-performance vehicle with intelligent controls and versatile applications, FREEDARE has developed an exceptional e-bike. "FREEDARE's aim is to provide users with the best-quality, intelligently designed e-bikes.", said Mike, CEO and spokesperson, "Our new Smart Fat Tire E-bike represents the pinnacle of bicycle innovation and we can't wait to make it available to the world."
Riders everywhere will experience the freedom and flexibility of this bike. Thanks to its advanced features, FREEDARE e-bike strikes the perfect balance for those seeking versatility, comfort, safety, and an intelligent riding experience.
Availability
The FREEDARE Fat Tire electric bike will be launched on Indiegogo in May 2023. Offering exceptional value and riding experience compared to similar products in the market, this bike is a great investment for cycling enthusiasts. Don't wait any longer, act now and join us on this fantastic journey.
About free movement
FREEDARE is a revolutionary bicycle company dedicated to promoting smart short-distance transportation and simplifying the movement of people and things. The brand integrates branding, research and development, production, sales, and service, aiming to provide users a comfortable, convenient, environmentally friendly, healthy, and enjoyable travel experience.
The project will be officially launched on the Indiegogo crowdfunding platform on May 9.  If you're interested in learning more or getting a better deal, consider joining FREEDARE brand's Facebook crowdfunding interaction group (add link)to access more perks and discounts.
https://www.facebook.com/groups/861995748351733
0 comments